Gajvandan Tu Morya Lyrics - Rahasya - Adarsh Shinde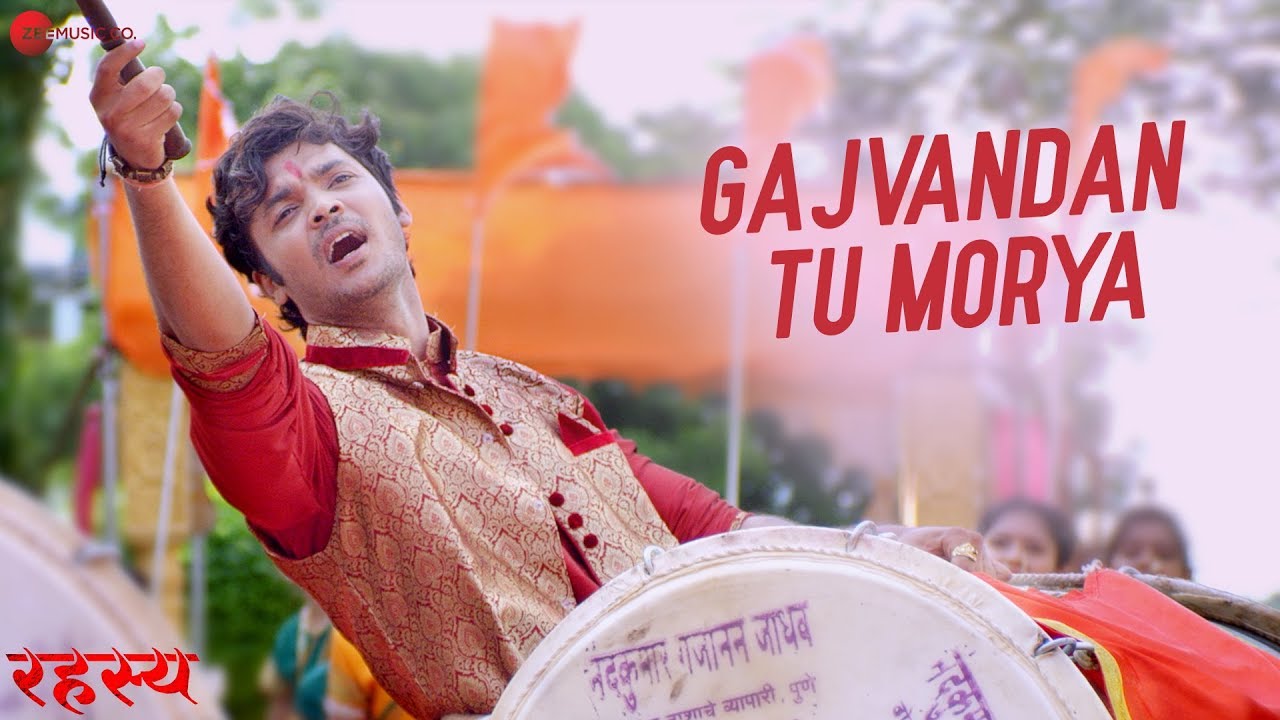 | | |
| --- | --- |
| Singer | Adarsh Shinde |
| Composer | . |
| Music | Prem Kotwal |
| Song Writer | Sameer Nerlekar |
Gajvandan Tu Morya song is sung by Adarsh Shinde and Prem Kotwal has directed the music while Sameer Nerlekar has written the Gajvandan Tu Morya Lyrics in Marathi.
गजवंदन तू मोरया song is sung by Adarsh Shinde this song lyrics provided in मराठी (Marathi) Language Gajvandan Tu Morya Lyrics.
The song is from the
Bhavesh Pati
l directed Marathi feature film
Rahasya
starring
Rakesh Bagul, Lucky Badgujar, Swati Shukla, Swati Patil, Rutuja Sonar and Sima Sharma.
Gajvandan Tu Morya Songs Download
- Listen to
Adarsh Shinde
songs
MP3
free online. Play Adarsh Shinde hit new songs and download Adarsh Shinde MP3 songs ...
Gajvandan Tu Morya Lyrics - Rahasya - Adarsh Shinde
वक्रतुण्ड महाकाय सूर्यकोटि समप्रभ
निर्विघ्नं कुरु मे देव सर्वकार्येषु सर्वदा

Gajvandan tu morya
Gajvandan tu morya ||7||

oh devha ganraya tuja Khel asa nyara
tujyasathi dumdumla aasmant sara
tu dhaw re aatapav re
tuch khara dildar
Pream barasat theuni tuch krupecha hath

Gajvandan tu morya
Gajvandan tu morya ||7||

morya morya morya morya ||8||
Ganpati bapa mory Ganpati bapa mory ||2||

tujya darshanane me zalo re pavan
morya morya morya morya||4||
Bhakti bhavane aamache
trupt zale re man
morya morya morya morya||4||
tujya darshanane me zalo re pavan
Bhakti bhavane aamache
trupt zale re man

vajte re dhol nachto gol
Are sajla tuja drabar
morya morya morya morya
nachuni malang zoloy
Tuja Krupasagar

Gajvandan tu morya
Gajvandan tu morya ||7||

ho..
sankatanchya sarya kar sarwanash
Gupt aandharacha kare vinash
sankatanchya sarya kar sarwanash
Gupt aandharacha kare vinash

De shakti aamhala bhakti tuji re
karude Ahankar
zalo bhgyawant na khant
kashyanchi aata tuch aabhar
tu dhavh re aata pavh re
tuch khara dildar
pream brasat theuni
tuch poojecha har...

Gajvandan tu morya
Gajvandan tu morya ||7||
गजवंदन तू मोरया

Lyrics - Rahasya - Adarsh Shinde
वक्रतुण्ड महाकाय सूर्यकोटि समप्रभ
निर्विघ्नं कुरु मे देव सर्वकार्येषु सर्वदा
गजवंदन तू मोरया
गजवंदन तू मोरया
गजवंदन तू मोरया
गजवंदन तू मोरया
गजवंदन तू मोरया
गजवंदन तू मोरया


हो देवा गणराया तुझा खेळ असजर
तुझ्याच साठी दुमदुमला आसमंत जर
हो तू धावरे आता पावरे तूच खरा दिलदार
प्रेम बरसात ठेउनी तूच कृपेचा हात

गजवंदन तू मोरया
गजवंदन तू मोरया
गजवंदन तू मोरया
गजवंदन तू मोरया
गजवंदन तू मोरया
गजवंदन तू मोरया
गजवंदन तू मोरया
गजवंदन तू मोरया

मोरया मोरया मोरया मोरया मोरया
मोरया मोरया मोरया मोरया मोरया

गणपती बाप्पा मोरया
गणपती बाप्पा मोरया
गणपती बाप्पा मोरया
गणपती बाप्पा मोरया

तुझ्या दर्शनाने आम्ही झालो रे पावन
( मोरया मोरया मोरया मोरया मोरया )

भक्तीभावाने आमचे तृप्त झाले रे मन
(मोरया मोरया मोरया मोरया मोरया )

तुझ्या दर्शनाने आम्ही झालो रे पावन
भक्तीभावाने आमचे तृप्त झाले रे मन
वाजते ढोल नाचतो गोल आभिने सजला तुझा दरबार (मोरया मोरया मोरया मोरया मोरया )

नाचुनि मलंग झालो आम्ही तूच रे कृपासागर

गजवंदन तू मोरया
गजवंदन तू मोरया
गजवंदन तू मोरया
गजवंदन तू मोरया
गजवंदन तू मोरया
गजवंदन तू मोरया
गजवंदन तू मोरया
गजवंदन तू मोरया

संकटांचा साऱ्या कर सर्वनाश
द्रुष्ट अंधाराचा कर रे विनाश
संकटांचा साऱ्या कर सर्वनाश
द्रुष्ट अंधाराचा कर रे विनाश

( थोडी शक्ती आम्हाला भक्ती तुझी रे करूदे अहंकार
झालो भाग्यवंत ना आता खंत कशाची तूच हात )

हो तू धावरे आता पावरे तूच खरा दिलदार
प्रेम बरसात ठेउनी तूच कृपेचा हात

गजवंदन तू मोरया
गजवंदन तू मोरया
गजवंदन तू मोरया
गजवंदन तू मोरया
गजवंदन तू मोरया
गजवंदन तू मोरया
गजवंदन तू मोरया
गजवंदन तू मोरया